News
Cindy Monroe Values & Vision Scholarship Announced for High-School Girls in Chattanooga
Thirty-One Gives | November 2013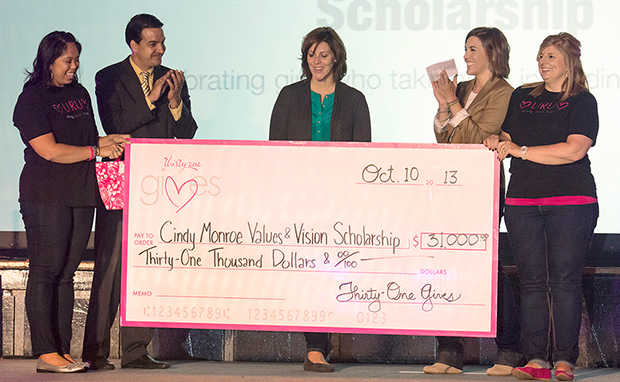 Scholarship Announcement/Check Presentation
To celebrate the 10th Anniversary of Thirty-One Gifts, the company's philanthropic fund – Thirty-One Gives – announced the Cindy Monroe Values & Vision Endowed Scholarship with a $31,000 investment. This donation will be used to support the development of girls in the Chattanooga, TN, community where Founder & CEO Cindy Monroe was born and raised, and also where the business was founded. Each year, the Cindy Monroe Values & Vision Endowed Scholarship will honor a girl in the Chattanooga area who embodies Cindy Monroe's core values of building relationships, leadership and community involvement. The chosen applicant will receive an annual $3,100 scholarship for four years, totaling $12,400 to support her college career.
Learn more at www.thirtyonegives.org/scholarship.
Introducing Thirty-One Gives Care Ribbons!
Thirty-One Gives | September 2013

We're excited to introduce a new personalization option to help you share how much you care and raise awareness for the cause closest to your heart. Add a Thirty-One Gives Care Ribbon to one of your favorite Thirty-One styles for $10 with text or $7 without text.
Ribbons are available in every thread color offered in the Fall Catalog, and for every ribbon purchased, 31 cents will be donated to Thirty-One Gives to support our mission to empower women and girls and strengthen families.
To purchase a product with a Thirty-One Gives Care Ribbon, find a Consultant.
Giving Back
Thirty-One Gives | July 2013

For every product purchased during the Outlet Sale, Thirty-One Gives will donate one of our products to The Today Shows' 20th Annual Holiday Toy and Gift Drive, up to 250,000 items! We call it GOGO: Get One, Give One.
Get birthday presents, organize your home and update your look, all while helping someone less fortunate have a happier holiday!
Home Office Employees Help Build a Home of Hope
Thirty-One Gives | April 2013

We know first-hand the importance of a good home – our Founder & CEO, Cindy Monroe, started Thirty-One 10 years ago in the basement of her own home. Through our philanthropic initiative, Thirty-One Gives, we're thrilled to pay forward the many blessings we've received as a company. Our mission to empower women, strengthen families and change lives aligns perfectly with Habitat for Humanity's goal to support communities and give everyone a place to live. By partnering with Habitat for Humanity, 40 Home Office employees will help build a home for a local family and proudly support the female homeowner. Habitat for Humanity's Home of Hope is the first-ever build of its kind (five-day blitz build) in our community. Together, we can strengthen our community.
Learn more about this partnership at the Gives website.
Proudly sporting their pink hard hats, Thirty-One home office employees helped build a home for first-time homeowner Christine Travis, empowering her with the tools she needs to raise her family. From laying sod and flooring, to hanging doors and cabinets, to installing siding and porch railings, the pink power was truly undeniable at the first-ever Habitat for Humanity MidOhio Home of Hope Blitz Build!
Thirty-One President, Andy Neri, helps cut the ribbon at the Key Ceremony
What an emotional night to be able to celebrate with Christine Travis and her nieces as they get the keys to their brand new home!
The Home of Hope wouldn't be complete without Thirty-One Product! Destiny and Alicia celebrate their very own personalized spaces.
Thirty-One Gives featured in Direct Selling News
Thirty-One Gives | April 2013

Thirty-One has experienced amazing growth during the last 10 years, and people across the country are taking notice. Direct Selling News, a monthly magazine focused on the direct selling industry, recently featured both Thirty-One Gifts and Thirty-One Gives in a four-page article that highlighted our incredible success story.
Thirty-One Founder & CEO Cindy Monroe was interviewed to discuss our growth and our company's mission, while Wendy Bradshaw, the Director of Philanthropy and Events, shared details about our philanthropic initiative, Thirty-One Gives. Bradshaw discussed our new partnership with Girl Talk, along with many of the other causes Gives has supported since its launch in February 2012.
Read the full Direct Selling News article here.
Proudly announcing a national mission partner
Thirty-One Gives | February 2013

To help us carry out our mission of celebrating, encouraging and rewarding women and girls across the country, we proudly partner with nonprofit organizations that share our goals.
This month we're happy to announce a new national mission partner, Girl Talk!
Girl Talk is a peer-to-peer mentoring program in which high school girls help middle school girls overcome the challenges associated with the early teenage years.
We're hoping to raise $50,000 to donate to Girl Talk, and you can help us reach our goal! Get the Details.
Thirty-One Founder & CEO Cindy Monroe with Girl Talk's Founder Haley Kilpatrick
Through this partnership with our Thirty-One Gives initiative, a portion of the proceeds from every U R U Gives Round Up! purchase will be donated to Girl Talk to help them reach more girls across the country.
Learn more about the Gives initiative and our new relationship at the Gives website.
A Season of Giving
Thirty-One Gives | January 2013

Thanks to our tremendous family of Consultants and Customers, we were able to give back throughout the 2012 holiday season. We appreciate all your generosity as you helped us touch the lives of many people across the country. Here are just a few of our "Gives" from the 2012 holiday season:
Today Show Toy Drive
As a result of our Consultant GOGO (Get One, Give One) Outlet Sale, we donated 250,000 products to the Today Show Toy Drive. That's more than $7 million worth of products!
In partnership with the Direct Selling Association, we matched every Consultant purchase during the sale, donating one product for every purchase. After the sale, more than 130 Thirty-One leaders helped us spread holiday cheer and distribute the products through 74 charities spread across all 50 states.
"Five amazing leaders spent their entire day sorting through donated items and decorating the donation drop-off for Safe Haven in Dallas. What a blessing," said Heidi McKee, a Senior Executive Director. "Thirty-One delivered big-time with Cindy Totes and backpacks. It was great!"
Operation Homefront
As part of our November Customer Special, for every Medium Utility Tote purchased, we donated one Thermal Tote to Operation Homefront, an organization dedicated to helping military families and wounded warriors. To show our sincere gratitude for the sacrifices they make on a daily basis while protecting our freedom, we were able to donate 250,000 thermals.
To all the families of everyone who is serving or has served in the military, thank you for everything you do!
Franklin Women's Shelter
The Monroe family partnered with some of our senior leaders and The Salvation Army to give back to the Franklin Women's Shelter in New York City. The shelter helps homeless women get back on their feet to secure and sustain permanent housing.
Cindy, Scott, their children and our leaders prepared dinner for shelter residents, plus helped with resume writing and organized the common area with $100,000 worth of Thirty-One products. They also left holiday gifts for residents of the shelter to open on Christmas.
Our Heart Belongs to Her
American Heart Association | January 2013

This year Thirty-One Gifts became the first direct-selling company to form a national Heart Walk team in support of the American Heart Association. Through our charitable initiative, Thirty-One Gives, more than 3,800 Consultants and Home Office employees participated in over 60 Heart Walks across the country, raising more than $190,000 to support the fight against the #1 killer of women, heart disease.
Heart disease affects many of our Consultants, Customers and Home Office employees, so we were very excited to raise awareness and funds for research to save the lives of women across the country.
"We believe strong, healthy women lead to strong, healthy families and communities," Thirty-One Founder & CEO Cindy Monroe said. "Our goal is to empower, educate and inspire women across the country to take charge of their heart health and take a stand against heartdisease."
Thirty-One donates 250,000 gifts to the TODAY Show Toy Drive
Thirty-One Giving Back l November 2012

Thirty-One Gifts continues its annual partnership with the Direct Selling Association (DSA) and the Today Show Toy Drive and will make a retail product donation of $5.4 million this year. The donations will be made through their philanthropic initiative, Thirty-One Gives
"We are proud to be a part of the DSA and have enjoyed our partnership with the DSA and the Today Show Toy Drive for several years," said Wendy Bradshaw, Director of Philanthropy for Thirty-One Gives.
With last year's contribution, Thirty-One was honored to learn they provided one of the largest donations in the Today Show Toy Drive history. This year, the generous donation was made possible due to Thirty-One's GOGO (Give-One-Get-One), Consultant-Only outlet sale. Thirty-One matched purchases 1 to 1, up to 250,000 products, and will donate a Backpack, Thermal Tote or similar item.
"We want to show our appreciation to Thirty-One Gifts for their wonderful contribution to our Toy Drive. It surpassed our expectations not only in the number of gifts, but in the genuine philanthropic spirit that the organization fosters," says Sam Sagenkahn, Project Director for the Today Show Holiday Gift Drive.
For exclusive photos and video of Thirty-One's appearance on The Today Show, please visit www.thirtyonegifts.com/today
Giving Back to Atlanta
National Conference Directors Day Give | August 2012

We left a little piece of our Thirty-One Gives heart in Atlanta to show appreciation for all that Southern hospitality! The inaugural National Conference Directors Day Give came from contributions Directors gave during lunch on Wednesday, August 1, to support two Atlanta-based nonprofit organizations:
Atlanta Mission: My Sister's House – An overnight shelter and residential discipleship program provided by the Atlanta Mission Women's and Children's services for homeless women with children. www.atlantamission.org
Girl Talk – A program with a mission to help young teenage girls build self-esteem, develop leadership skills and recognize the value of community service. www.desiretoinspire.org

Representatives of these organizations were surprised and delighted to receive larger-than-life checks on stage the next day sharing total donations of $40,661.50! For more information about Thirty-One Gives, visit www.thirtyonegives.org
Right To Read Week Celebration
I Know I Can | May 2012

In celebration of National Right to Read Week, the I Know I Can organization asked Thirty-One's Chief Brand Officer, Scott Monroe, to join other local celebrities in reading to second-grade classrooms.
Scott read the children's book I Know I Can, which is a heart-warming story that teaches students the importance of dreaming big and working hard, while also showing them the way through the career, skill and interest explorations of the book's characters.
Students had the chance to ask Scott about his college experience and how it prepared him for his role at Thirty-One. Scott encouraged the children to stay in school, study hard and to get a college education for successful futures.
Learn more about the I Know I Can organization.
Girl Scouts – Belief is in the Bag
Girl Scouts | March 2012

For the past 100 years, Girl Scouts of the USA has been building girls of courage, confidence and character, and Thirty-One is joining them in the celebration. Thirty-One is proud to be a Centennial Sponsor of Ohio's Heartland Girl Scout Council where Cindy Monroe, Founder and CEO, serves as an Honorary Board Member.
To further celebrate our centennial celebration partnership, the Girl Scouts and Thirty-One hosted the event "Belief is in the Bag": a night of inspiration and fun at Thirty-One. Over 250 local Girl Scouts and their leaders enjoyed belief-building activities, a facility tour and a heartfelt message of empowerment and self-confidence from Cindy. Cindy encouraged the girls, telling them that they have a place in the boardrooms of tomorrow and that it takes believing in yourself and the support of friends and family to get there.
Learn more about getting involved with Girl Scouts in your community.
Empowering women. Strengthening families. Changing lives.
Dress for Success | December 2011

Thirty-One's Founder & CEO Cindy Monroe, Chief Branding Officer Scott Monroe, Director of Philanthropy Wendy Bradshaw and some of Thirty-One's other senior leaders were in the Big Apple December 16 for Thirty-One's NBC Today Show Toy Drive appearance. As part of this special Gives trip, the group gathered at the Dress for Success Worldwide headquarters to organize and pack up Cindy Totes and scarves to donate to all the organization's affiliates across the country. Each tote included an inspirational note to empower women to reclaim their lives while feeling supported and celebrated.
Our Thirty-One senior leaders felt blessed and humbled to be part of an effort that would help and inspire thousands of women from coast to coast.
In case you missed it, check out Cindy on the NBC Today Show
Today Show | December 2011

Thirty-One's Founder & CEO Cindy Monroe was on NBC's Today Show on Dec. 16, to present the company's donation of more than 250,000 products to the Today Show Toy Drive.
This is the largest donation the Today Show Toy Drive has ever received!
Thanks to the support of our Consultants and Customers, we are helping thousands of families in need. We couldn't have done it without their support!
Thirty-One featured as "The Next Big Thing"
Next10 | September 2011

WBNS-10TV recently featured Thirty-One in a show called Next 10: The Next Big Thing. The show spotlights up-and-coming companies that are putting Columbus on the national map. Chief Operations Officer Andy Neri gave the TV crew a behind-the-scenes tour of the Easton Home Office and Distribution Center, and the crew was WOWed by the products, the people and the family culture of Thirty-One. Enjoy the show! Video: Next 10 Next Big Thing
Columbus Dispatch Features Thirty-One's Booming Growth
Thirty-One Today | August 2011

The Columbus Dispatch featured Thirty-One's booming growth, National Conference and our amazing Founder & CEO Cindy Monroe in a recent article. The article was featured on the front page of the business section and truly celebrates the Thirty-One opportunity.
We have so much to be proud of as a company, and we owe it all to our passionate Consultants, Customers and dedicated employees. Read the Columbus Dispatch article here.
What is Direct Selling?
Thirty-One Today | August 2011
Direct selling is an industry that is changing the way people do business and providing millions of individuals around the world with the opportunity to own their business and determine their level of success. Thirty-One is a direct selling company and we are proud to be a member of the Direct Selling Association. Learn more about the industry and the opportunities waiting for you.
100 Years of Direct Selling
Thirty-One Today | August 2011
The direct selling industry has rich history that parallels the achievements and struggles of the American landscape.
We welcome you to explore the 100 year history of the Direct Selling Association.
Let's Celebrate Two Million Blessings!
Thirty-One Today | May 2011
Our growth is beyond phenomenal! On November 30, 2010, we announced that we'd shipped our one millionth order. Now — only five months later — we're thrilled to share that we recently shipped our two millionth order!
Members of our Distribution Center staff are all smiles as they gather together to share the moment!
We've reached this amazing milestone because of our outstanding Independent Consultants! Please join us in celebrating our latest blessings — all two million of them!
Columbus Business First | April 2011
We are excited to announce that Cindy Monroe has been named one of Central Ohio's "Forty Under 40" by Columbus Business First Newspaper. This annual award recognizes 40 individuals under age 40 who show professional drive and give back to their community.
"This is truly an honor and a blessing," Cindy said. "I'm humbled to be considered among such talented men and women in our community." Cindy credits our passionate and dedicated Thirty-One Consultants, Leaders and employees for the company's growth and success.
Cindy was nominated by David Hirsh, president of Atrium, which is our strategic sourcing partner for all the Thirty-One products you love. The 2011 recipients of the Forty Under 40 Awards will be honored in May. Read the article at Columbus Business First
Columbus Business First | October 22, 2010
Thanks to dedication, hard work, love and support of our entire Thirty-One family, the company was recognized as one of the Columbus Business First Fast Fifty. Thirty-One ranked fifth out of the 50 fastest growing companies in Central Ohio. Continue reading at Columbus Business First
Direct Selling News | September 2010
Thirty-One is in full bloom as business continues to grow at an unprecedented rate. Founder & CEO Cindy Monroe and her husband Scott --Thirty-One's Chief Brand Officer, strive to maintain the company's modest roots by nurturing relationships and a sense of family that remains the company's foundation. Continue reading at Direct Selling News
Thirty-One on the Today Show
Today Show | December 2009
Thirty-One's Founder & CEO Cindy Monroe made a guest appearance on NBC's Today Show with Cathie Lee Gifford and Hoda Kotb on December 1, 2009 to donate more than 30,000 thermal totes to the Today Show Toy Drive. Thirty-One strongly believes in sharing the blessings and paying it forward.